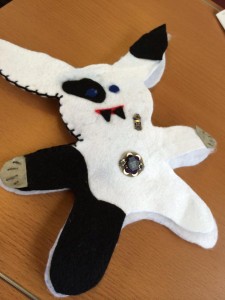 The Rainbow Laboratory is Dr. Rode's research group. It has members at Drexel University and the University of Siegen.
Dr. Jennifer A. Rode is a proud alumni of the Cambridge Rainbow Group.
Our lab examines how values become incorporated into to technology design. We aim to explore the value decisions and question their appropriateness, as we aim for creating progressive and inclusive technology.
A significant focus of our work is ensuring equal participation among genders in the STEM or technology fields. Our mission is to combat the gender disparity and encourage expressions of femininity in computing. We aim to instill confidence in girls grades 6-8th by offering them a unique and playful learning experience. Girls have the opportunity to master the art of creating e-textiles, fashionable wearable technology, draw circuit diagrams and more! We use our findings to create gender theory to explore best design practices for computing.
Come visit us to just say hello, to see the cool stuff we have been making so far, to get involved or just to have an honest conversation. We are pretty open minded!