Last conducted at previous fieldsite, 2014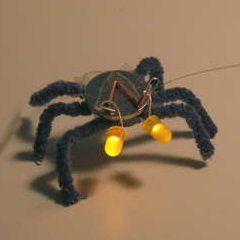 Blinkybugs are simple little electro-mechanical insects that respond to movement, wind, and vibrations by blinking their LED (light-emitting diode) eyes.  Despite their simplicity, they have a strangely lifelike quality.
Skills learned by the girls we studied:
Rudimentary programming-how to arrange a circuit
Crafting-Designing Blinky Bug bodies and where to place LEDs (normally as eyes)
Creativity (Aesthetics)-Deciding what Blinky Bug bodies should look like overall (pipe cleaners; copper wires; LED colors)
Crafting-arranging Blinky Bug antennae (copper wires) properly
Intermediate programming-steps leading to activating LEDs via copper wires.
Two dimensional to three dimensional visual learning-Looking at directions represented on paper and then attempting to emulate steps and finished product.
Bricolage-observing research team members building Blinky Bugs and then tinkering with their own Blinky Bugs, playing with circuit functions and aesthetic decisions.
Collaboration-girls consulted one another and research team members as they built their Blinky Bugs throughout the process.
Computational thinking-emergent.
Design agency-emergent.
For more information: http://blinkybug.com